We've only just begun to be only just beginning
4-6 October 2013
Austin City Limits Festival
•
4-6 October 2013
Images of salmon swimming upriver against current, detritus, and smarter fish swimming in the other direction, cloud my mind, as I trudge two steps forward and one step back, toward the Honda stage to see
Okkervil River
on day one of my
ACL
pilgrimage. It's 95 degrees, the only plus being the sun is to my back, and the deeper into the crowd you get, the more the humidity builds. This is nuts, of course, I hardly know this group, tending more towards the
Holly Williams
sorts; my festival opening selection just done telling moving stories on the BMI stage to great appreciation of the fans gathered. As Hank's granddaughter and Jr's daughter, she's got the genes, and she puts them to good use.
But, the beauty of Austin City Limits is the new experiences, the unexpected finds, the gems. Last year, while staking out positioning on the rail to catch the
Old 97's
, I was treated to a raucous, fun loving show by the
The Lumineers
. Sure, I should have known who they were. I follow music a bit. I have eclectic tastes. My children, developed musical tastes of their own, were asking me to bring back their t-shirt. I'd have continued to miss them until the Grammy Awards, if it weren't for a mission to be front and center, when Rhett Miller and gang walked on stage. The Lumineers played like a trio that still thought they were doing this for fun, though, for that matter, so did the Old 97's after about 20 years at it.
So, back to the journey upstream. Okkervil River is my surprise catch for 2013. What a show. Playing songs from their new album, "The Silver Gymnasium," they completely rocked the place. I was downloading "Down Down the Deep River," before they'd moved onto the next selection (oh, the advantages of technology).
Wilco
and
Kings of Leon
were my primary focus on day two and, as if the music gods were shining down on me, they played back to back on the Samsung Galaxy stage. I only had to fight the crowds once to position myself on the rail. Although, 5:00pm to 9:45pm is a very long time to stand in one place. The temperature dropped from 95 degrees to 65 degrees during my stay. When I was in college, I used to watch the guys rushing the Omega fraternity with bemusement - part of the hazing included standing in the rain, holding a brick waist high in front of them, looking for all the world like death would be a relief, but convinced the ends will justify the means. Jokes on me. I stood ground in a two foot by two foot square for almost five hours - crowded in by a mix of ridiculously young kids, ageless hippies and the rare other old man like me, in an endless fight for a few inches. Draw in a breath and that slight shift in your diaphragm was instantly filled with someone's elbow, backpack, or burning joint.
It was well worth it.
Wilco were as awesome as they are legendary. Jeff Tweedy, originally a founding member of Uncle Tupelo with Jay Farrar, Nels Cline and Patrick Sansone commanded the stage swinging from folk to pop to crazy, synthesized up-tempo guitar. Cline plays the guitar like a man possessed and this weekend was no exception. How does any human being move their fingers the speed of hummingbird wings? If you haven't witnessed it, check out the last few minutes of the
Handshake Drugs
video from a visit to the Letterman Show in 2011. A sight to see. The festival would have been more than exceptional, if it ended on Wilco, but as if exceptional wasn't enough, Kings of Leon followed them.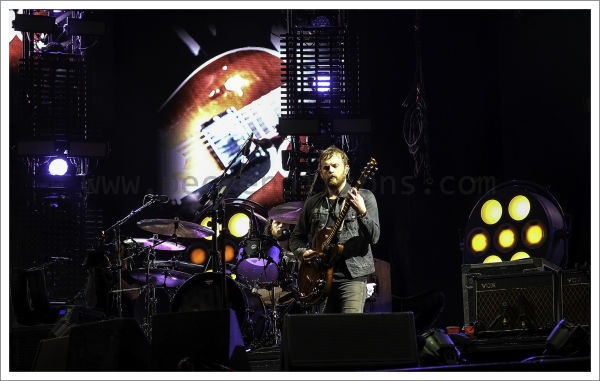 Kings of Leon is a Grammy winning American rock band that formed in Nashville, Tennessee in 1999. The three Followill brothers - Nathan, Caleb and Jared - grew up in Oklahoma and Tennessee with their father, Ivan Leon Followill, a United Pentecostal Church preacher. According to Rolling Stone magazine, "While Ivan preached at churches and tent revivals throughout Oklahoma and the Deep South, the boys attended services and were occasionally enlisted to bang on some drums". Along the way they picked up the moniker the Kings of Leon, named for their dad. Kings indeed. This isn't three kids banging on the drums anymore. High energy, high key and intent on winning over an audience that was already in their corner. Lead singer, Anthony, offered early in, "We have nothing to do for a week after this, so we plan on putting on a show." So, they did. I'm not a big fan of light shows and pyrotechnics, but these guys did it right. The screens behind them a revolving reflection of the crowd and themselves.
Planning for next year - photographer credentials.